Sunday, May 1, 2016 | jcrewe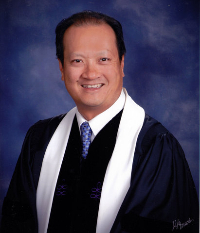 What would be your final thoughts moments before death? "Was there meaning to my life? Where will I go next? Am I saved?" Philosophical and theological questions we rarely contemplate earlier in life now come to the forefront. The Gospel of John records the final moment of Jesus on the cross. When he saw his mother and the beloved disciple, Jesus said to her, "Dear woman, here is your son," and to him, "Here is your mother." It was not meant to be an introduction of two strangers who met each other for the first time. The disciple was believed to be John, the son of Zebedee. John's mother was Salome, Mary's sister. So, John and Jesus were cousins and knew each other since childhood. Anticipating his imminent departure, Jesus charged John with the care of his mother Mary and at the same time reminded her to treat him (John) like her own son. It speaks of Christ's character as someone who cares deeply about the well-being of others in spite of his horrific ordeal.
Every year we celebrate mothers by showering them with our love, affection and attention. It has become tradition and, because we have done this for so many years, we celebrate Mothers' Day more routinely than reflectively. Most people know the difference between reflection and routine. Mothers appreciate a card with heartfelt words more than a fancy flower bouquet sent by UPS without a personal touch. It is easier to appreciate our mothers in good times. But when facing adversity in life, we are prone to be preoccupied with our own survival than anything else. This time of the year is especially difficult for those who never knew their mothers or were estranged from them.
The Bible depicts God as a loving mother who cares for her children. "Can a mother forget the baby at her breast and have no compassion on the child she has borne? Though she may forget, I will not forget you!" (Isa. 49:15). "As a mother comforts her child, so will I comfort you" (Isa. 66:13). God's passionate love for us reached its climax when Jesus died on the cross. The same way God and our mothers love us, so should we love them. Our mothers loved us so much that they would sacrifice their sleep to feed us, their free time to take us to piano lessons, their convenience to help us get out of trouble, their careers to build a family. Our mothers would give up everything to give us anything, to raise and nurture us, to bring us through college and to help us become adults so we could have our own families. When our mothers raised us, they did it out of sacrificial love that was not limited to one day a year but extended over a lifetime. What if Mothers' Day was not just one day in our busy calendar but a way of life, not a way of shopping?
May God give us the grace to love our mothers (biological or spiritual) with all our heart, soul, strength and mind because they deserve no less.
By Pastor Lui